The Hermosa Beach Education Foundation (HBEF) was established in 1992 as a 501(c)(3) organization with the aim of advocating for high-quality public school education in Hermosa Beach. Its primary focus is to raise funds for academic programs, bridging the gap between state funding and the financial requirements for providing excellent TK-8 grade education.
HBEF operates solely with the support of volunteers who are committed to creating an environment where students not only achieve academic success but also thrive personally.
The funds raised by HBEF are directed towards various instructional programs such as science, technology, foreign language, art, and music. Additionally, HBEF's financial support extends to counselors, librarians, and reducing class sizes.
Through its annual fundraising efforts, HBEF consistently raises over $1 million each year, contributing vital funding to the Hermosa Beach City School District for programs that are not covered by the state of California. This commitment to academic excellence is a collaborative endeavor within the community and an investment in our most precious asset—our children.
HBEF collects funds through multiple avenues, including contributions from student families, local business sponsorships, grants, and community events. Approximately half of our annual revenue comes from Annual Giving, which involves one-time donations from the families of our students.
We encourage each family to consider a gift of $1,000 per enrolled child in our Hermosa Schools. To support HBEF at any amount, please donate at hbef.org—every dollar makes a significant impact!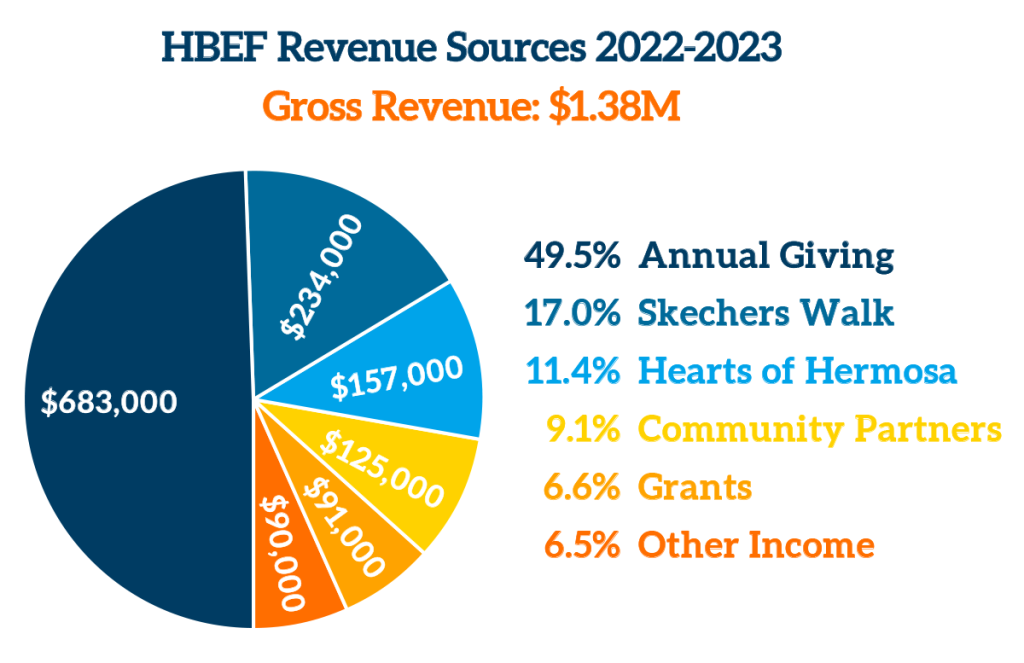 Join HBEF and make a difference!
HBEF continually seeks volunteers to support its initiatives. Regardless of your talents or skills, there is a role for you to play. Whether you have a little or a lot of time to spare, your contribution will be greatly appreciated. Moreover, becoming part of HBEF not only allows you to make a positive impact on our children's lives but also provides an opportunity to meet new friends and have fun along the way.
Are you ready to volunteer your time or services? Please contact us to let us know that you are interested.