Skechers Pier-to-Pier Friendship Walk
Sunday, October 29, 2023, Manhattan Beach Pier
Check-in: 8am · Start: 9am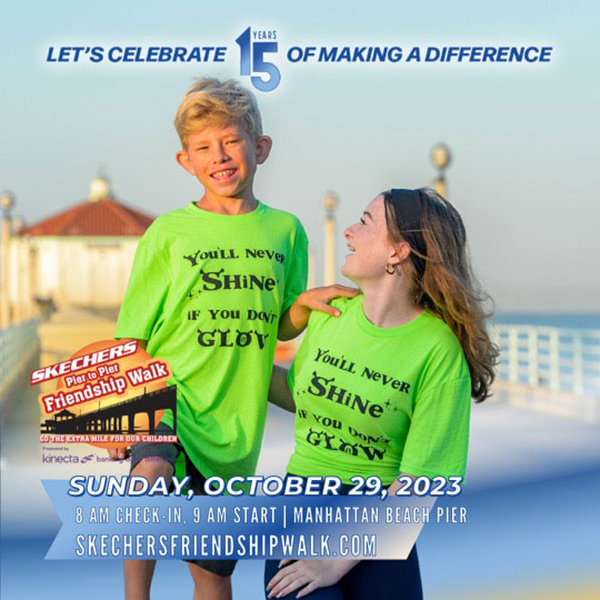 For every $30 registered walker or virtual walker, Skechers gives more than triple back to HBEF.
Can't attend on October 29?
Register as a Virtual Walker.
In 2022, the Skechers Friendship Walk raised $234,385 for our Hermosa Schools—the largest sum ever for HVS. This year we're aiming even higher!
To register for your class team, find your teacher below and click the link. Then follow the steps to JOIN TEAM.
*Register additional family members (and pets) on the same team while logged in.
**Students can be registered under more than one teacher to receive the Free Mile Credit and for the homeroom prize. They will need to register with a different email address for each team.
Click to: REGISTER NOW
Select "JOIN A TEAM"
Search for a team by typing your child's teacher's name in "Find a Team" search box. Or join our HBEF Team if you do not have children in the district.
Click "Join" button.
Select participation type: "Registered Walker" or "Virtual Walker"
Click "Next Step"
Join as a "New Participant" or log in with an existing account (you can reset it if you forget).
Fill out registration information.
IMPORTANT: For question #2— "I would like my contribution to support"
please select: Hermosa Beach Education Foundation.
To register additional family members on the same team, you can do so while logged in. But to register additional family members on different teams, you will need to logout, then choose "Join as New Participant," and choose a different username for that person. You can use the same email address, mailing address, credit card, etc., but you will need a new user name.